Our involvement with a variety of community groups continues to grow as our reputation expands.
World War 1 Remembrance Crosses
Teamwork overcame the short timeframe in 2015 given to assemble over 300 crosses identifying World War 1 casualties complete with names, numbers and poppy logos.
We did such a great job a further request in 2016 resulted in another 964 ANZAC memorial crosses being assembled, alphabetically sorted and crated for 2016 ANZAC Day Commemorations. Menzshed repeated this role having an assembly line putting the crosses together. In addition we made purpose designed crates each holding 50 crosses. Sorting and storing them in alphabetical order proved a challenging task and was completed on a separate day when no other shed activities were operating. We have also completed another 20 boxes for last years crosses as they are now all stored away.
We have been asked to continue assembling more crosses and building more boxes next year, and the following year.
Click on photo to enlarge
click > to go to next photo
OR
Win a wish
We contributed to a "win a wish" request in the extension of walls, new doors and a walk-in wardrobe    prior to a sponsored bedroom makeover for 15 yr old blood cancer survivor Rhiannon Nottage.
Peter Blackler led this project and with a bit of help from other members built a new wall across the end of the lounge, demolished the old bedroom walls, adapted the ceiling, moved internal doors, built a walk-in wardrobe, completed the Gib lining and fitted skirtings and architraves.
Then the makeover was completed.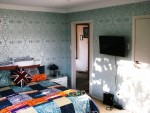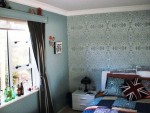 Boat for Castle kids pre-school
It started with a request for an old dingy that the kids could play with and we decided to start from scratch and design our own.  Forming  the sides with a single length of ply resulted in the shape of a waka and then we decided to make it an ark. The sea-horse formed a good shape for the bow and lots of other fish related shapes were prepared for the sides and we ended with a colourful boat. The end  result has been well received by children and has become a well loved part of their external play.
Notice Board
A request from Kapuni School for two permanent waterproof notice boards resulted in two old surplus aluminium window frames having the glass replaced with perspex, being framed and mounted on posts
Display Board
The modification of a recycled office partition met the requirements of a moveable colourful blackboard for the front foyer of the recently refurbished Te Newhanga, Kapiti Community Centre, Ngahina Street, Paraparaumu.
HatRack
The challenge from the school request was to have a sun-hat rack that was portable and could be wheeled outside was taken up by John and Ian and the result was quite outstanding.
Children's Outdoor tables
We get repeated requests for these BBQ tables and the latest recipient of these two is the Paraparaumu Play Centre, Hinemoa St
Miscellaneous
Raised garden beds
Raised garden beds for the disabled are where it all started but these have progressed to personal requests and even for raffling to raise funds.
Waimeha Lagoon Seat
Otaki river-mouth seat sponsored by Rotary
Seat outside Waikanae Medical Centre
Pre-school Centres
Montessori pre-school wall feature
Bridge
There was a muddy patch that was often unusable so the suggestion was a bridge over it would also be a fun thing for the kids.
Octagonal Tables
The Kindy table set & kitchen
Work for KCDC
Trailer frame for Waikanae surf club