2016 MenzShed Kapiti AGM & a new Life Member
The 2016 AGM was attended by 37 members and normal reports and the audited financial report was approved. There were no surprises except for the election of our third Life Member, Ross Collins.
Ross Collins has been a member Of Kapiti MenzShed since inception having previously travelled from Paraparaumu to the Wellington Menzshed, starting in 2008. While he unde-rights his skills he is constantly on the go helping the firewood gang and those trying to keep the place tidy as well as off-loading the latest trailer load of free materials. He has been a major contributor in making shelves and things more accessible in our "wood shed" and is continuing to try and store more timber under cover although can't always remember where those special pieces are now located.
Ross says he enjoys the fellowship and camaraderie at the shed and tends to be waiting at the gate at 8am even when it is not a MenzShed day.
He has been adopted as our Father Xmas mascot and has made a lot of children happy in this role. We have not yet been able to convince any youngsters who visit our site that this is where father xmas spends his time, out of season.
MENZSHED NZ Blue Skies Conference & AGM
Kaiapoi April 2016
The theme for the conference was "Diversity, Collaboration and Health".
Diversity – recognising the variety of sheds, solutions employed and issues affecting operations
Collaboration – working with the community, other charities and sheds
Health – achieving improvements in men's health
Our representatives at this conference were Nigel Clough and Peter Wilkinson (who also was re-elected as National Treasurer)
Award Winnings
Submission by Peter Blackler in the 2014 Wellington Airport Regional Community Awards resulted in us winning two awards – the first category was the Health & Wellbeing and then we went on to win the supreme award beating 4 other category winners.
We then went into the award area finals representing Kapiti against Wellington, Porirua, lower Hutt and Upper Hutt
That second result result was announced at a special function on 11th October and we won the Area Health & Well Being award
The 3 committee members, representing us at that function at Te Papa complete with dinner and Te Radar as the MC, all look happy – but then I suppose someone has to do it!!!
The award winnings were used to purchase a drop/pull saw, the most used piece of machinery at the shed.
To find out more about this annual event click the organisers web site on their web site
Lake MenzShed Kapiti
Kapiti had some 1 in 20 and 1 in 50 year bursts of rainfall in May 2015 and our carpark drainage didn't cope. So Lake MenzShed Kapiti was created for a short time but eventually disappeared and returned to normal. However, as we have had trouble with surface water before, negotiations will be held with the landlord KCDC for a real drainage pit to be constructed complete with sump.
Life Members
Two life members elected at our 2014 AGM – Nigel & Peter
Nigel Clough was one of the initial steering group, the first chairman, a hardworking committee member
and current project co-ordinator. Nigel insists that a cup of strong coffee at the start of our sessions is a mandatory part of our sheds culture. The photo shows him improvising for the necessary hot water for a cuppa in the early days of our shed.
Peter Blackler, since joining has provided enthusiasm, leadership of site developments and the buildin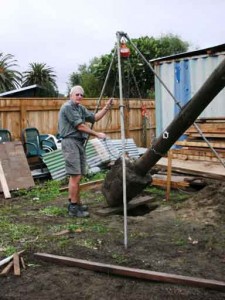 gs extension and has an apparent endless supply of energy and motivation. Members are always astonished at the work Peter puts into the shed with the photo showing Peter in one of his typical roles of leading by example. Here he's working with the re covered piles from the tractor shed demolition project, relocating them in the new holes at the start of the new extension to our shed.
Well deserved acknowledgement for two of our most active members